About Flying Fish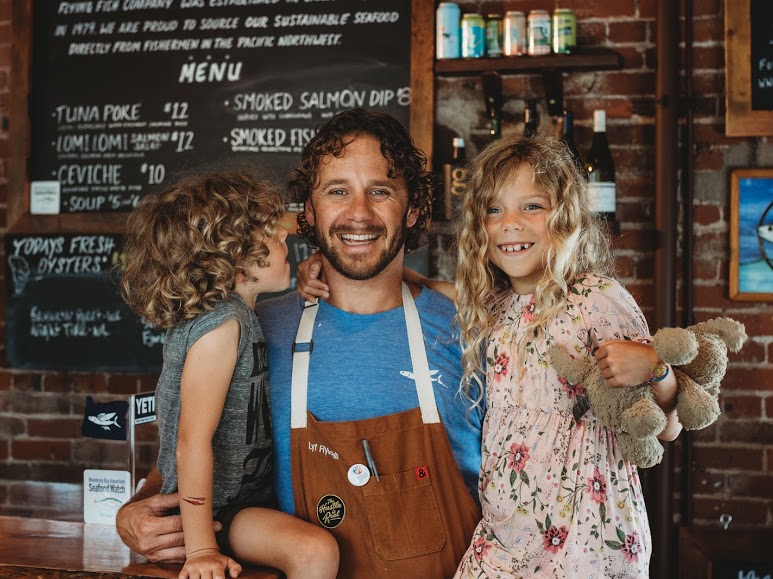 Meet Lyf Gildersleeve, second-generation fish monger with significant aquaculture and aquaponics experience and education, and significant public speaking experience. He actively promotes and protects sustainable use of our seafood resources aligning with the most sustainable fishermen, foragers, and farmers in the Northwest.
From developing lasting relationships with eco-conscience producers to early adoption and operation of sustainable aquaculture and aquaponics practices, Lyf's relationships with ecological concerns, sustaining family businesses, educating the public, advocating for national fisheries policy, and building a successful retail business place him in the forefront of a new generation of highly motivated, enthusiastic, knowledgeable, and forward looking entrepreneurs.
Meet the Team
We love and value our team of dedicated chefs, prep cooks, shuckers and servers. Thank you for your hard work to make the customer experience at Flying Fish Company everything it is today: Alex LS, Alex W, CJ, Danny, Erik, Grady, Hyacinth, Jack, Jae, Jesse, Julia, Kelly, Kenneth, Kevin, Lydia, Mike, Molly, Neebs, Owen, Roro, Ryan P, Ryan S, Sam, Sylvia, Wyatt, and Brad, plus Judiaann, Dana & Lisa. 
Executive Staff
Lyf Gildersleeve: Owner & Chief Fishmonger
Erik Englund: Culinary Director
Danny Atkins: Sous Chef
Jack Bressoud: General Manager
Wyatt Manyon: Assistant Manager 
Sam Moser: Oyster Bar Manager
Alex Longovia Stephen: Beverage Manager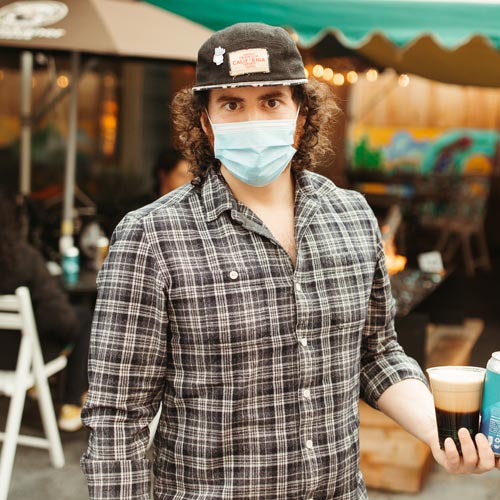 The Shop on Burnside
Welcome to Flying Fish Company, a retail fish market, meat market, oyster bar and full-service eatery in Portland, Oregon. From ceviche to poke to fish and chips, the menu runs the gamut of thoughtfully-prepared, healthy, and sustainable dishes served in a casual COVID-responsible outdoor venue, heated and protected from our never-ending 9 months of rain.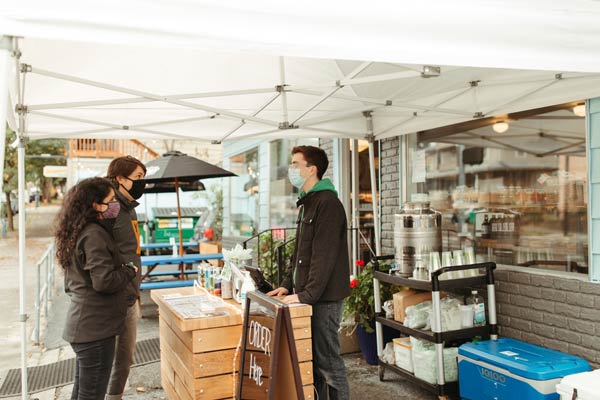 Craig and Sandy Gildersleeve opened the first Flying Fish Company in Sandpoint, Idaho in 1979 - the year before their son Lyf was born. Lyf, now president of Flying Fish Company, has spent his entire life around fish, including an aquaculture education at the Harbor Branch Oceanographic Institute at Florida Atlantic University.
Flying Fish has three locations: Sandpoint, Idaho; Durango, Colorado; and Portland, Oregon. The Portland location opened in late 2010 as a food cart at the D Street pod on Division Street. In 2011, we opened the fish shack on Hawthorne Boulevard. In 2016, we moved into a stand at Providore Fine Foods on Sandy Boulevard. In February 2020, we opened our standalone location on East Burnside, pictured here.
Local Engagement
Dollars spent at a local business multiply throughout the community and strengthen our economic base. This means your dollars, and ours, too.
Our decisions on which suppliers to partner with are made with an eye on sustainability—that of our local economy, of endangered family farms, the balance of the food chain, and preservation of the environment. Local food is fresher, healthier, and flat-out tastes better.
We develop lasting relationships with only the most sustainable and eco-conscience producers, fishermen, foragers, and farmers in the Northwest. Lyf personally fishes on some of the commercial vessels and visits our vendors' farms, fields, and aquaculture installations to ensure their practices meet his rigorous standards of animal welfare, healthy diet, and sustainable execution.
Meet some of our Oyster Suppliers
---
Here at Flying Fish Co., we're all about Old Portland. And we're also all about New Portland.
The thing that drew folks to Portland throughout the late '90s and early 2000s was everyone here, everything, the scene, the music, the food, the art—it was all "weird".
And to that, we ask, "Weird? What? Is it weird to spraypaint giant wall murals? Weird to own the (actual) world's largest sneaker collection? To care about animals and the environment? To spend time and money on customers instead of our bottom line? Weird to traffic fresh fish in a tiny Cessna from Seattle to Sandpoint while teaching rich kids how to fly?"
Weird is our roots, but weird is kind of fading fast. And while there's nothing we can do to stop weird from fading, we can choose to do our best every day to engage it and honor it. As shrewd business owners, we know there's no point dwelling in the past, but as human beings, we firmly believe that it's foolish to disregard it.
At Flying Fish, we recognize that the past is the road that led us to where we are today, the sage who gave us the skills and passions that have brought us success and happiness. And we continually work to expand and cultivate our network of folks who live weird, eat weird, love weird—ARE weird.
To honor that commitment, we work every day to create a unique and exciting dining experience that looks forward to the New Old Portland—an experience that harnesses the weirdness of old, but staunchly refuses to linger in a past that would leave us floundering for success and stability.
Instead of lingering, the folks who make up Flying Fish Co. choose to pivot on this unexpected and inexorable change—we choose to hold on to the character and innovation of old Portland, keeping it alive, viable, vibrant, while working to create our own definition of what it means to be weird, living in the now and harnessing the energy of an emergent, changing city.
We choose to push the envelope of what's known and to explore what could be, what can be, if only we take the great and momentous leap of moving into the future given to us. We choose to respect and amplify the checkered past that paved the road which has led us to where we are today.